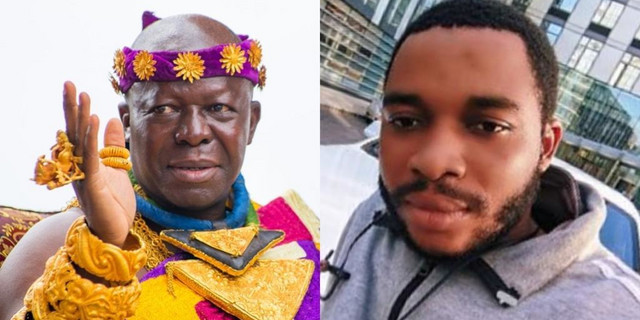 "Until the rivers in Ghana become colourless, no curse will befall on me as I'm fighting for the river gods" – Twene Jonas (+ Video)
Most recently, some elders of the Bechem traditional area ganged up at a shrine to invoke curses on Twene Jonas for reportedly insulting the King of the Asante Kingdom, Otumfuo Osei Tutu II.
– Advertisement –
The social media commentator who lives in the U.S and known for criticizing Ghanaian leaders, in his latest rant about Galamsey destroying water bodies, descended on chiefs in Ghana.
However, his comment caused upset among some people who decided to attack him for insulting the Asantehene.
Some elders of the Bechem traditional area ganged up at a shrine on 24th May 2021 to invoke curses on Twene Jonas.
These Bechem elders who had performed ritual sacrifices on top of the curses to end the life of Twene Jonas were captured in a video going viral on social media.
But in the vice of highly-opinionated Twene Jonas, until the rivers in Ghana become colourless, no curse will befall on me as he's fighting for the river gods.