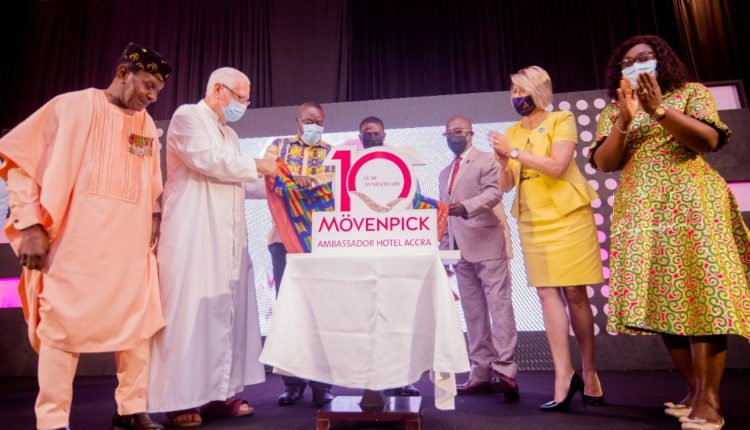 Mövenpick launches 10th anniversary
The Movenpick Ambassador Hotel has launched its 10th anniversary celebration, under the theme "Doing Ordinary Things In An Extraordinary way".
As part of the anniversary celebration, a set of exciting activities and events centered on creating, sharing and making moments with all have been outlined.
These include; blood donation exercise which will be held in conjunction with the Accra Technical University, a clean-up exercise and donation, charity work with Princess Marie Hospital which the hotel has adopted.
To climax the celebration, a food festival will be held in November this year with the Hotel offering huge discounts and entertainment throughout the day.
This will be followed up with a corporate soiree with partners, clients and long-serving staff.
General Manager of Movenpick Ambassador Hotel, Deborah Lee-Ann Sivertsen said the Hotel intimately involved in the lives of their guests and have a long-term commitment to sustainability and environmental awareness.
Movenpick Ambassador Hotel and Resort balances a portfolio of upscale properties in Europe, Africa, Middle East and Asia and represented in 24 countries with a staff strength of 16,000.
The five-star Hotel was officially opened for operations in 2011 by Saudi Prince Alwaleed bin Talal, and has since been a beacon of excellence in the tourism and hospitality sector in Ghana.
Mövenpick Hotels & Resorts is a modern, upscale hospitality company that is passionate about 'making moments', recognising that small gestures make a big difference to our guests, our owners and our people. We do ordinary things in an extraordinary way – a philosophy that has defined our brand's success from the very start.
A global firm with Swiss roots and a restaurant and hospitality heritage that dates back to the 1940s, our approach to service has remained consistent; warm, intuitive, personal and uniquely 'Mövenpick'.
Many reputable organizations in the country including the Ghana Journalists Association (GJA) prefer to host their events at Movenpick