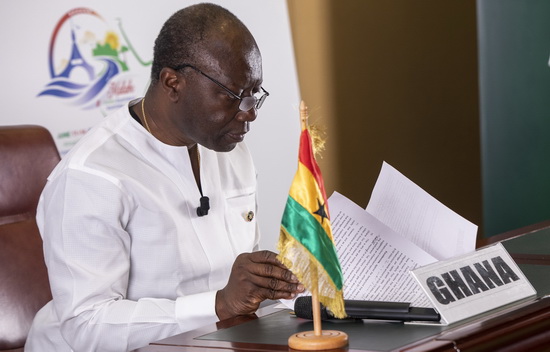 Government will address issues raised by #FixTheCountry conveners – Ofori-Atta
The Finance Minister, Ken Ofori-Atta, has assured the #FixTheCountry conveners of government's commitment to doing its best to make Ghanaians comfortable by providing them with life necessities.
Speaking at a press briefing dubbed 'Rebuilding Ghana's Economy', Sunday, he said the Akufo-Addo-led government is on course to fast-tracking policies to improve the livelihoods of citizens.
"The president asked us to be a citizen and not a spectator, you have elected us to solve the problem that faces this country, we will continue to work with you and other stakeholders to do just that.
"We acknowledge that as a nation we need to do more to ensure decent incomes for all Ghanaians," he added.
The press briefing comes after some agitated citizens dissatisfied with the conditions in the country made clear their intentions to embark on a demonstration to demand accountability.
The protest was meant to amplify sentiments such as rising youth unemployment, inefficient health systems, skyrocketing cost of rent, poor road networks among others.
But even before they could say jack, the police had sought an injunction preventing the group from embarking on their planned protest on May 9.
They were not deterred as they announced a number of virtual protest to drive home their demands.
Government organised a press conference on Sunday at the same time the online protest was ongoing to explained its efforts in rebuilding the country's economic situation.
The Finance Minister blamed the delayed implementation of projects on the impact of the coronavirus pandemic.
According to him, "until we were hit by the Covid-19 pandemic we were on course to achieving stabilised and grow the economy by creating jobs especial the youth."
Mr Ofori-Atta further indicated that despite the harsh impact of the pandemic, the incumbent government has implemented several developmental projects.
"We have financed during this period the construction of ongoing interchanges across the country including those at Takoradi, Tamale, Tema, Obetsebi Lamptey and Pokuase to ease traffic and enhance productivity.
"Never in our history have we seen such activity of interchange to ease traffic. We have also invested in railway lines to be able to move our resources in a more effective ways,"
Again, he revealed that in their quest to address issues raised by the conveners, government will without delay initiate pragmatic steps in fixing the country.
"Ladies and gentlemen in the coming days we will move swiftly to address some of the issues that the FixTheCountry have raised. First I am working with the minister of water and sanitation to immediately ensure potable water to areas of critical need.
"I will also work with the Ministers of Roads and Interior to address the congestion along the major highways. We will fast-track the implementation of Job programme and economic transformation," he stated.