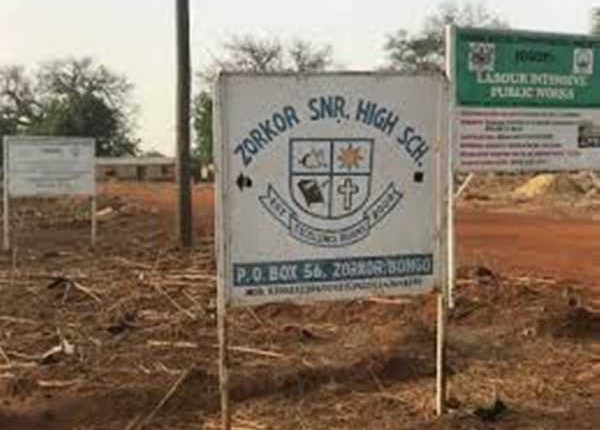 BONGO: Students of Zorkor SHS return to eating in the open after collapse of dining hall
Students of Zorkor Senior High School in the Bongo District of the Upper East Region have been left without a dining hall after rainstorm destroyed a temporal dining hall constructed for the school by the Bongo District Assembly.
The rainstorm on Friday June 11, 2021 destroyed the temporal structure built by the Assembly a year ago leaving the students without a good environment for meals to be served. This has therefore forced them to return to eating in the open.
The students prior to the construction of the temporal structure, were eating in the open while an ultra-modern dining hall complex that was awarded by the erstwhile John Mahama administration has since remained at the foundation level, almost 6 years after the award of the contract.
The structure carved in on tables and benches damaging them in the process and now forcing the students to take their meals under rather harsh weather conditions.
Speaking to Sankara Radio District Chief Executive for Bongo Peter Ayamga Ayinbisa said his attention has been drawn to the plight of students of the school. He further disclosed that a team from the works department of the district assembly will visit the school today (June 14, 2021) and recommend to him the appropriate step to take.
"My technical department will go there to assess the extent of damage and come out with what we can do to resuscitate that building because as it is now, the students will have no other place to take their meals especially now that we are in the rainy season, there will be storm, the wind and even the sun it means that we need to do something urgently to be able to salvage the situation. So, we will have to do something about it so the engineers will be there and I will get the report within the week and we will see what we can do about it because it is our responsibility to ensure that the school gets a better dining hall for students to eat".
On the uncompleted dining hall, Mr. Ayinbisa said "I have asked for the contact of the contractor. The last time I warned that if you know you don't have the financial muscle. You don't have the capacity. You don't have the needed strength to be able to complete the project, just let government take it over and rearward to somebody who has the muscles but you hang on to projects for 4 years, 5 years, 6years and you are not completing the project so I am going to mount pressure on the contractor to return or I will recommend to GETFUND to terminate the contract" the DCE served notice.
SOURCE: DREAMZFMONLINE.COM